You're Going To The
WHISKEY VAULT!
I'm Gordon Atkinson, a whiskey sommelier  who can get you into the world famous
WHISKEY VAULT in Austin.
You don't need another tasting or tour. You've done those. Some guy who works for a distillery giving you a quick rundown of the same six whiskeys he talks about every day.
That's not what you need.
What you need is 2 hours in a whiskey vault with your new buddy Gordon, who happens to be a whiskey sommelier and will answer all of your questions. And yes, we can sample any of the whiskeys in our 3,000 bottle collection during our time together.
Contact me and set a date. Please arrive half an hour early so we can talk. I'll find out where you are on your whiskey journey and what amazing whiskeys you need to try with me.

Designated drivers or Uber are required. You won't want to drive after this experience.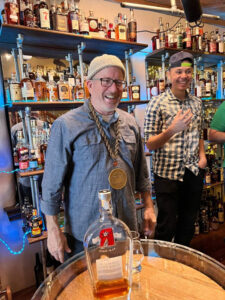 Level 3 Whiskey Sommelier, trained at the Whiskey Marketing School in Austin.
Authorized to do whiskey training in the famous "Whiskey Vault."
Use the form below to contact me with any questions you might have.
Looking forward to seeing you in Austin soon!
[ninja_form id="1″]