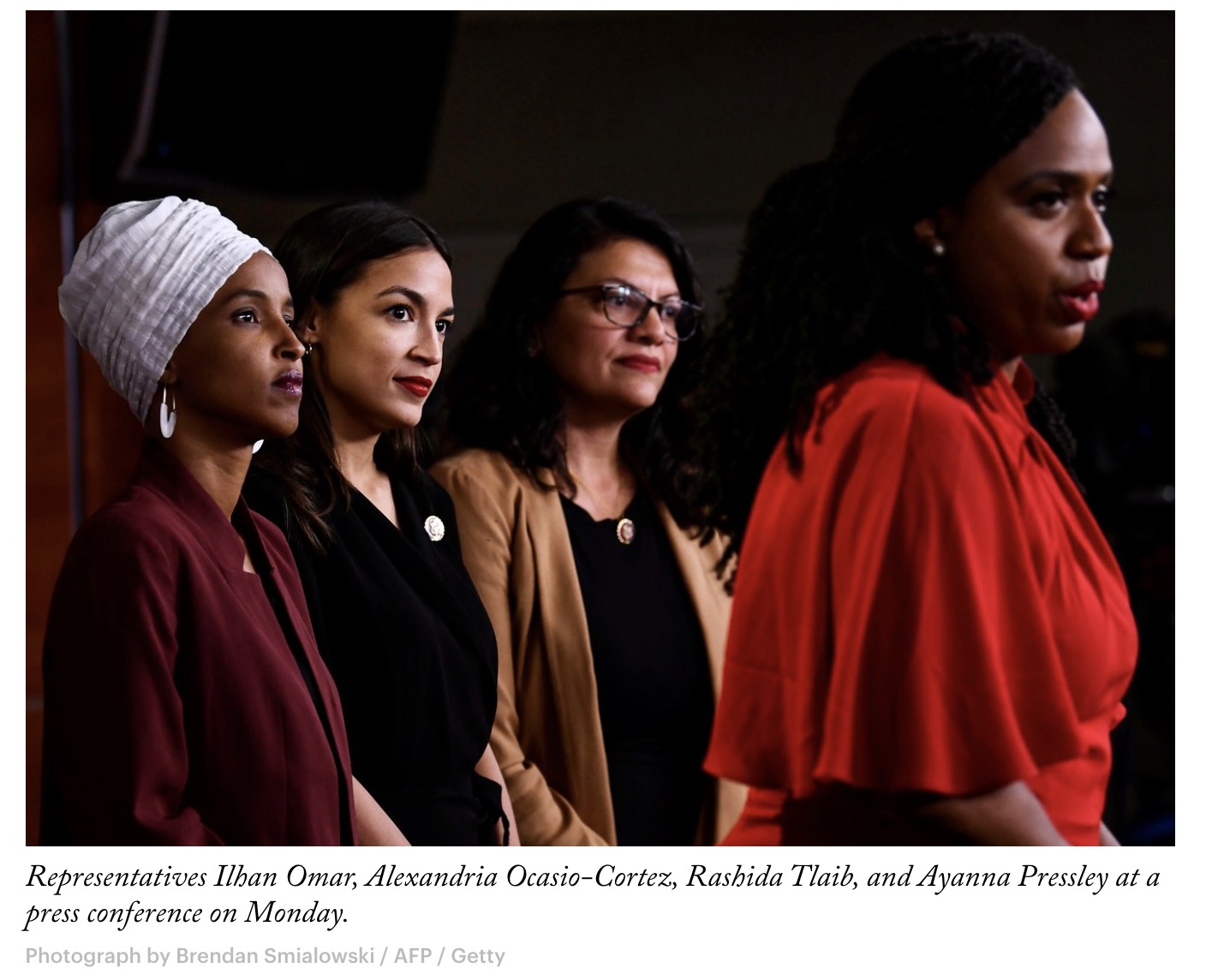 It's so depressing that what I'm about to say even has to be said. But it must be said. And it's even MORE depressing knowing that current Republicans in power for the most part aren't listening and don't care, even if we do speak this truth.
THESE WOMAN ARE CITIZENS AND ARE ELECTED UNITED STATES LEGISLATORS. THEY ARE OUR GOVERNMENT. THEY ARE OUR PEOPLE. THEY ARE US.
Hell, I'll go farther than that. They are the best of us. While most people sit around waiting for the latest episode of Game of Thrones, they got off their asses and got elected and are trying to do something. That's a virtue in my book.
Trump's rank ignorance in saying they should go "back to their countries" is stunning, but it's hard to address it without it seeming like you agree with his premise, which is apparently that citizens born here somehow participate in our country and culture at a higher level than those who are naturalized citizens.
That is, of course, utter bullshit and completely unconstitutional, and stupid, and morally bankrupt. So to respond by saying, "Hey idiot, three of them were BORN HERE" is awkward because one doesn't want to dignify his premise. The truth is they are citizens and elected officials so they are by definition US. They ARE the government. It's just doubly galling to have him drag in that old native-born shit, like he's running some 19th century New York Gang.
Some things are more important than politics and getting your way and what the budget will be and who will appoint judges. Those are very important and that's why we have the system we have where you can elect people you agree with and try to swing things your way.
But this is bigger than that.
I want to say we can't slip back to the mindset that was once common and think that somehow light-skinned citizens born in the U.S. are our people while dark-skinned and/or naturalized citizens are somehow NOT our people and can be asked to leave. I'd like to say that that we should not go back to that way of thinking. But I can't say that because we're not going BACK to that. We ARE that. And have been that, apparently, all along. That's the way a goodly percentage of us think. And now we know that about ourselves.
We ARE that racist people. That means we've never been great. And we are not becoming great now, no matter how much you bellow and howl and how red your hat is. You cannot be a great country and believe these things about your own people.